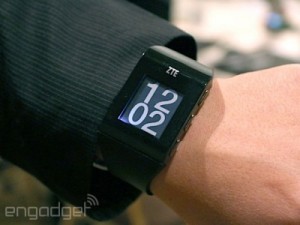 One of the main themes of CES this year are wearable devices, in particular, "smart" watches, sunglasses, and a fitness bracelets. ZTE is not far behind the trend and introduced a prototype of its "smart" hours BlueWatch. They will be sold in China, and there is no information to increase sales abroad.
The exhibition presents not the final sample, and it has some problems with the display. However, watch from ZTE are very similar in many respects to the popular Pebble. In the hours used display, electronic ink technology, and the connection is made to your phone via Bluetooth. Side, there are three buttons to navigate through the menu and setting the clock. The charger is connected to the magnetic port. Settings and modes of operation are identical to those in Pebble.
BlueWatch can receive different notifications that come to your smartphone, messages from social networks, and have the function pedometer with built-in sensors.
Since the exhibition was presented only preliminary sample, to release some of the functions BlueWatch hours may vary. It is also expected that there will be support from third party developers.
source:engadget