Sony has confirmed the desire to develop wearable electronics market. The company represents a new category of devices SmartWear – line SmartWear, complementary line of smartphones Xperia, and a new application Lifelog.
The first device in the series – Bracelet SmartBand . It aims to gain more control over the events taking place, recording daily activities and displaying it visually in Appendix Sony Lifelog. With the application, users will be able to recall times past, present, optimally organize and build future plans.
Life consists not only of the steps taken by us – SmartWear concept combines emotional and active components. Entertainment and information – how you feel and what you are doing at every moment. It is aimed at action and, more importantly, on the mood.
Due to the principle of open source software and open platform Sony expects to develop new partnerships in order to provide consumers with more choice. Additional information about the development of the concept SmartWear will be published in the coming weeks.
Sony is already among the market leaders in wearable electronics thanks to the recently released SmartWatch 2, compact and powerful device running with smartphones running Android all the major manufacturers, whose sales have exceeded expectations. Today, Sony announced the release of new applications and updates for SmartWatch 2. Currently, the total number of applications available for the 'smart' exceeds 300 hours Sony. Due to the active community of developers using an open platform for creating applications for SmartWatch 2, the number of solutions for the hours continue to increase.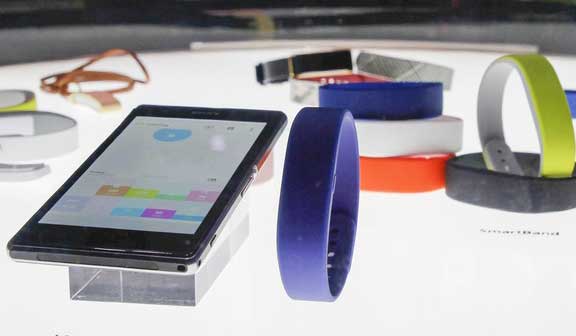 Sony also announced the expansion of lines of accessories supporting NFC, which now includes 132 devices. New Headset with Bluetooth-pairing function "one touch" a stylish design and is protected from the spray. SBH-80 technology support NFC, HD Voice and aptX and allows you to comfortably switch tracks and adjust the volume of music and manage telephone calls without using their hands.
Xperia Z1S – flagship smartphone with high-tech waterproof camera, introduced in the U.S. exclusively from T-Mobile operator
Sony today announced the launch of sales in the U.S. smartphone Xperia Z1S exclusively under the brand name of the operator T-Mobile. Starting today, customers can submit your application to get a smartphone among the first. Preliminary online sales of smartphones will begin January 13, scheduled for January 22, the start of retail sales in salons T-Mobile.
Along with the Xperia Z1S users access entertainment content offered only by Sony, including the integration of multimedia applications with Sony entertainment services and other free content. Xperia Z1S – the first smartphone application loaded with PlayStation App, lets you communicate with your smartphone and a PlayStation 4 (PS4), that will appeal to gamers.