Apple upcoming iPhone 6 more leaks: According to many technology news websites now a days New iPhone 6 leaks coming again and again.I am going update you about latest leaked information on a website named gsminsider. iPhone 6 releasing date now confirmed by Apple. This iPhone 6 will hit Chinese mobile phone market on 19th September 2014.
Apple iPhone 6 will comes in two sizes: First handset of 4.7 inches and second handset of 5.5 inches as shown in below given leaked promotional flyer that is posted on gsminsider website.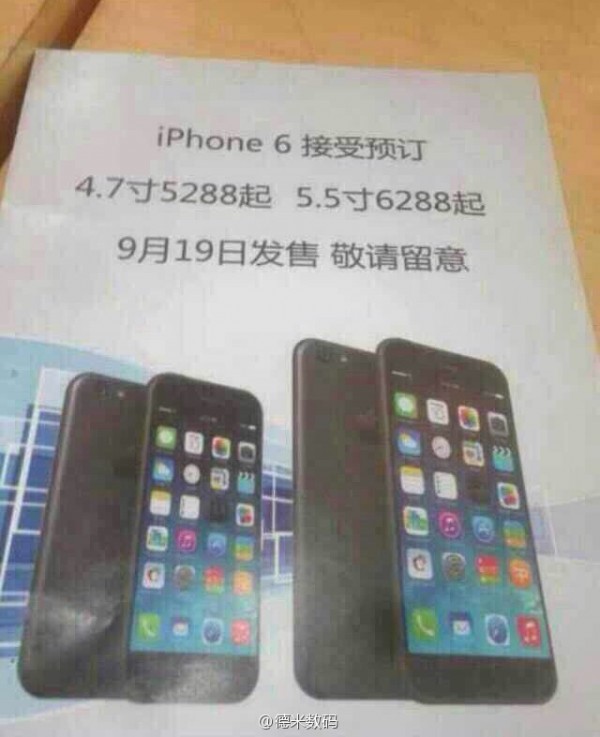 Now come to the point of Mobile Price.What will be the price of this new cellphone? This well known and most awaiting iPhone Series handset is iPhone 6.Yes, its first coming to china priced at RMB$5,288 whose size is 4.7 inches(According to Taiwanese website this price is in china market ). iPhone 6 whose size is 5.5 inches cost will be RMB$6,288.These both models have same specs only difference is their size/dimensions.
As mentioned on above mentioned website it is also leaked that iPhone 6 is already send to china top 4G LTE carriers and local mobile phone distributors  for testing purpose.It is also leaked there that the manufacturing process of 4.7″ model started in this week of July but the manufacturing process of 5.5" model will start in the last week of August next month.
Now What you say about this new iPhone 6? Are you ready and interested to buy this one?