Lahore: June 01, 2015:- Most of the mobile phone manufacturers have released new products this quarter. Samsung has revealed their Flagship device S6, Apple also announced that they would be start selling Apple Watch to Chinese market.
Huawei after successful launch of P8 internationally; it's being heard that this mobile is going to hit Pakistan market very soon. P8 is having great features and could be a big threat for Samsung.[ads2]

Huawei P series impressed users a lot in terms of their appearance, design, technology and touch, etc. P6 was launched 2 years ago and became very famous among users because of its elegant look. Huawei ripped up the low-end label towards high-end market. Now keeping its trend live P8 is buzzing Pakistan because of its beautiful appearance, excellent shooting ability, powerful battery and creative light painting functions.[ads2]
Huawei P8, a powerful gadget with lot features other than design and light painting function. Like, knuckle technology in which with the help of knuckles double-tapping the screen gently for the screen shot.
Google made app for finding your mobile and Huawei added this feature in their mobile for their valued users. With the help of this feature user can easily find mobile by calling it simply.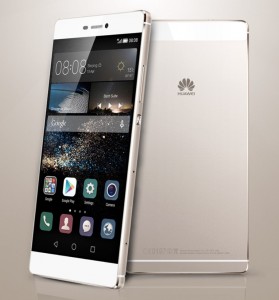 In addition, Huawei P8 has unique battery management technology to effectively balance performance and energy consumption, in additional Kirin 930 64bits eight-core chip, the same battery capacity than the industry to enhance the effectiveness of the mobile phone 20%.
And for calls, music volume, Huawei has done a pleiotropic P8 processing: in a noisy environment, the user can select the sound volume beyond 58% of the peak voice for good calling experience; in the strong wind noise environment. P8 can eliminate up to 90% of the wind noise with the headset (single microphone) call; otherwise super speakerphone that can support high-quality speakerphone, conference calls anytime, anywhere easy access within a radius of two meters range.
According to the reports, Huawei's brand awareness increased to 65% in 2014; Huawei brand's Net Promoter Score, increase from negative 24% in 2013 to 43% in 2014. At the same time, Huawei has become the first mainland company on the list of Interbrand Top100, ranked 94.
Review Huawei's performance in 2014, Huawei's smartphone shipments reached 75 million units, sales revenue amounted to $ 12.2 billion. Of which 52% of sales come from overseas, this is the first time that overseas income is more than the mainland market for Huawei's device business. Huawei plans to lift overseas sales ratio to 60% in 2015.   The main reason behind success of Huawei is brand focuses on Quality and technology; "Product speak itself"