The 2015 flagship smart phone from Huawei launches across the region
A new era of smartphone technology becomes available to the Pakistan market today as Huawei launch the P8. Once again redefining the smartphone industry, the Huawei P8's exciting features, cutting-edge technology, durability and sleek design allows consumers to ignite their creativity.[ads2]
Building on the rich heritage of the P Series, the Huawei P8 takes beauty to the next level, striking a perfect balance of artistry, creativity and functionality. The Huawei P8 delivers a new level of usability for different applications impacting everyday life – at work and at play. With craftsmanship that pushes the bounds of possibility and new revolutionary light painting modes, the Huawei P8 provides consumers with an inspiration for creativity.

Inspired by the design elements of leather-bound handcrafted book binding, the Huawei P8 is a unique smartphone that combines clean, aesthetic lines with innovative technology, beauty and elegance. The phone comes with four elegant color options: silver, gold, black and grey. The devices come in a translucent package and the unboxing experience is like taking a book from the shelf.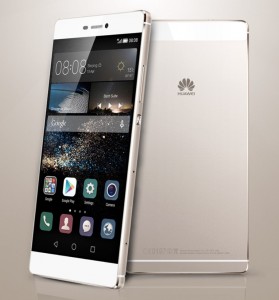 Mr. Fanhong Bruce, President Huawei Device Pakistan commented on the regional launch: "We are extremely excited to launch the user-friendly P8 for consumers across the Pakistan. Huawei has seamlessly combined the best elements of style and strength in this device, delivering a revolutionary user experience – especially in terms of camera and network connectivity. Building on the outstanding market performance of Huawei's P series, we are fully confident that our P8 will become one of the most popular smartphones among consumers in 2015."
The Huawei P8 introduces a new philosophy for camera design – a camera optimized for low light and high contrast. The P8 leverages a combination of hardware, software and proprietary algorithms to help users capture beautiful photographs, even in the worst lighting conditions, bringing the joy of photography back to the smartphone user.[ads2]
Huawei's enhanced technology and software provides four professional quality low-light shooting modes, a director mode, and fun creative shooting modes. All users – from painters and architects to someone in the fashion industry, now has access to a mobile photo and video studio that provides diverse and innovative functionality for capturing artistic inspirations within daily life.
About Huawei Consumer Business Group:
As at the end of 2013, Huawei's products and services are deployed in over 170 countries, serving more than one third of the world's population. Huawei ranked third in global smartphone shipments in 2013. Huawei has also established more than 16 R&D centers around the world in countries such as the United States, Germany, Sweden, Russia, India, and China. One of Huawei's three business groups, Huawei Consumer Business Group (BG) provides a range of products including mobile phones, mobile broadband (MBB) devices, home devices and cloud services. With more than 20 years of rich business expertise in the information and communications technology (ICT) sector, an extensive global network, vast global business operations and partners, Huawei Consumer BG is dedicated to bringing the latest technology to consumers, offering a world of possibilities and creating extraordinary experiences for people everywhere.
For more information, visit Huawei Consumer BG online: www.huawei.com/pk/