Huawei introduces a smartphone that shoots long exposures and a fitness tracker that converts into a headset
It is hard to make an Android smartphone that stands out from the crowd, but Huawei takes a stab at it with the P8 which has innovative camera features. The camera is a 13-megapixel model with built-in optical image stabilization. The sensor is a four-color RGBW (red, green, blue, white) sensor which is claimed to provide better low-light performance and produce better pictures with high contrast scenes. One of the more interesting features of the camera is a light painting mode (which is essentially a slow shutter speed mode) that allows you to record, for instance, light trails from moving cars.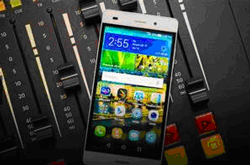 This mode requires that you lock down the phone to a tripod so that your hand movements won't introduce unintended blur in the shot. Other notable features of the P8 include the company's own Hisilicon Kirin 930 64-bit octa-core processor running at 2.0GHz with 3GB RAM and dual LTE SIM slots.[ads2]
One of the standout features of the P8 is that it has a very thin bezel on the left and right sides of the 5.2in (1,920 x 1,080 pixels) screen, making it a little smaller in size than its competition.  Huawei has also included some unusual gesture controls not found in other Android smart phones – for example, double-tapping the screen with your knuckle will take a screenshot while drawing a circle will capture part of the screen.[ads2]
For the more budget conscious, there's the P8 Lite, which as the name suggests, is the more affordable version of the P8. The P8 Lite has a slightly smaller screen (5.0in) with a lower resolution of 1,280 x720 pixels. It also runs on a less powerful processor – Kirin 620 1.2GHz 64-bit octa-core – but supports the faster CAT4 LTE network.
The rear camera on the P8 Lite is a 13-megapixel model but with a regular RGB sensor instead of the RGBW of the P8 but has a relatively bright f/2.0 aperture for better low-light capture. The front-facing camera is 5 megapixels. Finally, Huawei also announced the availability of the TalkBand B2 Classic and TalkBand B2 Elite, which are essentially fitness trackers that you wear on your wrist.[ads2]
However, unclip either device from your wristband and it will turn into a Bluetooth headset. The difference between the TalkBand B2 Classic and Elite is that the Classic comes in silver or black with matching rubber strap, while the Elite is finished in a gold color with a leather strap. The Huawei P8 will be available in mystic champagne and titanium grey colors. All models are available at Huawei authorized stores. Keep visiting Mobile Price in Pakistan.