HTC has released a User Agent file , which presumably relates to a new flagship – HTC M8 (the official code name smartphone within the company). This file is optional, but is usually created before the official release for internal use, including an information about the device, its specifications and features. The presence of such a file is almost official confirmation of the existence of the smartphone. The main thing that was seen in it, the screen resolution is 1080×1920 pixels and lack of physical buttons below the screen.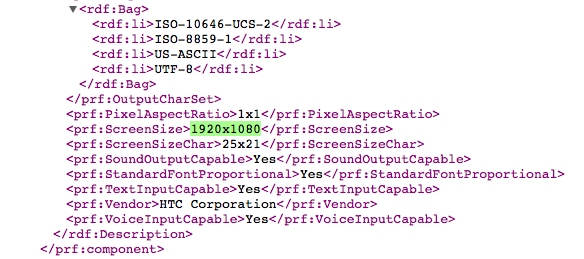 While, as the resolution trends over its predecessor will remain unchanged, the physical size of the display is expected to be somewhere in the range 5-5,9 inches. This will reduce the density of pixels that amid rumors of QHD-display (1440h2560) competitors may be not the best solution on the part of HTC.
On the other hand, HTC M8 expected UltraPixel two cameras on the back side, which will help to achieve better image quality, as well as the front stereo speakers, having good sound.
It is expected that the smartphone will be available by the end of March