LG G Watch android wear,the first wearable device from LG hit the consumers market last day as it is officially announced on LG as well as Google android official blog.LG G watch enhance the functionality of android smartphones.It has a beautiful and attractive minimalist design based on touch screen user interface. G watch from LG is wrist wearable device,the button-less design keep its user connected wherever,whenever.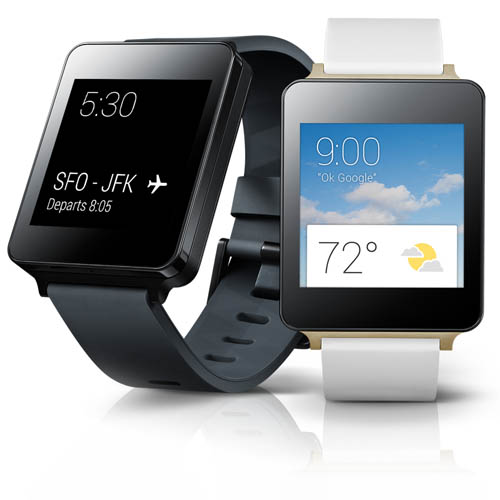 The LG G Watch is available for pre-order on the Google Play Store from last day firstly for 12 countries( United States, Canada, UK, France, Germany, Italy, Spain, South Korea and Japan). The LG G Watch will also be available soon in more 27 countries including (Australia, Brazil, Mexico, New Zealand, Singapore and Russia). Hopefully,it will be soon available in Pakistan.
 LG G Watch Price: $229
LG G Watch is available for Pre-order on Google Play Store and shipped to users after 7th July.It is available in White Gold and Black Titan colors.
Full Specifications
Dimensions: 37.9 x 46.5 x 9.95mm
Weight: 63g – Battery: 400mAh
Processor/Chipset: Qualcomm®Snapdragon™ 400 processor
Display: 1.65-inch LCD IPS (280 x 280)
Memory: 4GB eMMC / 512MB RAM
OS: Android Wear (compatible with smartphones running Android 4.3 and above)
Connectivity: Bluetooth 4.0
Sensors: 9-Axis (Gyro / Accelerometer / Compass)
Color: White Gold/ Black Titan
Others: Dust and Water Resistant (IP67)