Samsung's latest LEVEL headset combines stylish design with best-in-class sound for the perfect mobile listening experience
Lahore – July 2, 2015 – Samsung Electronics Co., Ltd., today announced the new LEVEL U Bluetooth headset. The latest addition to the LEVEL headset line-up incorporates the latest Samsung technology; delivers best-in-class sound with crystal-clear call quality and features a stylish, ergonomic design for a comfortable fit. The LEVEL U has a long battery life and is also great for Text-to-Speech (TTS) applications. It will be available from July 1st, 2015, with a recommended retail price of $79.99.[ads2]
"The Level U Bluetooth headset is quite unusual, and that's because we at Samsung have identified a truly new way of improving the mobile experience of our customers; we looked at what people really need and developed the new LEVEL U," said Younghee Lee, Executive Vice President of Global Marketing, IT & Mobile Division at Samsung Electronics. "The LEVEL U combines fashion, comfort, and performance with cutting-edge wireless Bluetooth capabilities; this is a really easy-to-use headset, and our customers will enjoy it."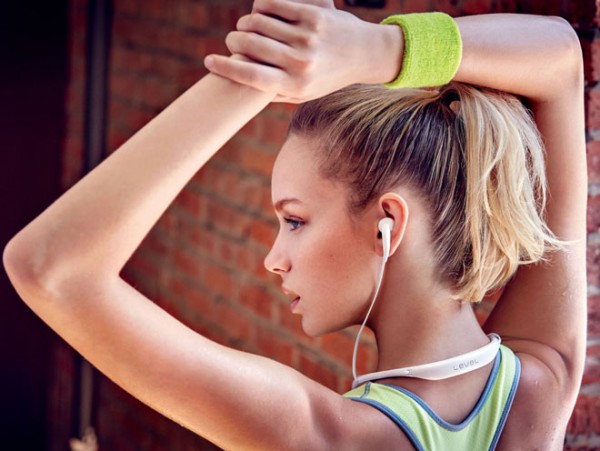 Sophisticated, Ergonomic Design
Available in range of striking colors, including blue black, white, gold and blue, the Level U can fit any style. Weighing just 33g, with soft, flexible urethane joints and an ergonomic, adjustable neck-band design, the headset offers a secure and comfortable fit. The LEVEL U also features a range of built-in, slightly raised control buttons that make it easy for users to adjust the volume, pause, play or skip a track, even when they are on the move. The ergonomically designed hybrid-style eartips combine the noise-cancelling properties of earbuds with the comfort of headphones, even when listening for long periods. The LEVEL U's magnetic eartips also fasten together, making the headset neater and more wearable when not in use. [ads2]
Best-In-Class Performance
Using Samsung's latest mobile and audio technology, the LEVEL U features two microphones. One collects noise from your surroundings, the other captures your voice, the headset then filters out the external noise to deliver crystal-clear audio to whoever you are speaking with. The LEVEL U also provides an optimum listening experience, thanks to noise and echo reducing technology and 12mm dynamic drivers that deliver richer bass and more balanced sound. Thanks to Bluetooth 4.1 and the apt-X Codec, users can enjoy high-quality, CD quality audio sound without the fuss of wires.[ads2]
Multi-Purpose Usage
The Level U is far more than just a premium mobile listening and audio device. Through the downloadable Samsung LEVEL app, the headset can notify users about a range of essential information, including missed calls, alarms, scheduled events and the remaining battery level thanks to Text-to-Speech (TTS) functionality, vibration alerts and an interactive onscreen icon. Lastly, with a universal 5 pin charging port, and up to 10 hours battery life for playing audio, 11 hours talk time and 500 hours standby time, the LEVEL U fits into people's lifestyles. It's a headset for a truly connected living and greater freedom for everyone, everywhere.[ads2]
  Samsung Level app compatibility:
The (downloadable) Samsung Level app is compatible with Samsung mobile devices running the Android operating system 4.2.2 or later. Depending on a device's specifications, certain features may not be visible for some users and some functions may not be available.
In order to use the application, users should ensure their devices are paired using Bluetooth.
**Battery life may vary depending on individual usage patterns.