Latest Smartphone Wexler ZEN 4.5 Review. At the end of last year the company released Wexler inexpensive smartphone on the Android operating system called Wexler ZEN 4.5. Its specifications are not amazing, but at that time the price was quite adequate (about 5000 rubles). The device can be found from 7000 rubles, and on the official website of the device offer for 8000 rubles.In the announcement has been said that the metallic apparatus, however, only made of aluminum side faces. Of the features – the screen is protected by tempered glass.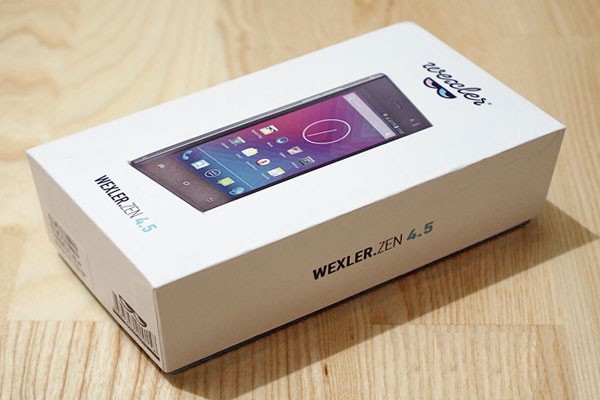 Class: smartphone
Form factor: classic
Materials: plastic and metal
Operating System: Google Android 4.4.2
Network: GSM / GPRS / EDGE, UMTS
Processor: four core, 1300 MHz, MTK6582
Memory: 1 GB
Data Memory: 8 GB
Interfaces: Wi-Fi (b / g / n), Bluetooth 4.0, connector microUSB (USB 2.0) for charging / synchronization, 3.5 mm headset
Screen: capacitive, IPS 4.5 " with a resolution of 854×480 pixels
Camera: 5 MP autofocus + c 2 MP, Flash
Navigation: GPS
Extras: accelerometer, proximity sensor, FM-radio
Battery: removable, capacity of 2000 mAh
Dimensions: 132x65x8,75 mm
Weight: 137 g
PRICE: 8000 rubles (Q1 2015)
Design, size, controls
Wexler ZEN 4.5 smartphone is designed in classic candybar: a rectangular box shape with sharp corners, the back cover slightly sloping. The gadget is compact enough, 132x65x8,75 mm and lightweight 137 grams. However, this is not achieved due to some unique technologies and banal due to the small screen diagonal. Because of its elongated shape is easy to hold in your hand, it does not slip, but the duty to "yuzanii" unsmoothed angles can dig into the palm. I thought so.[ads2]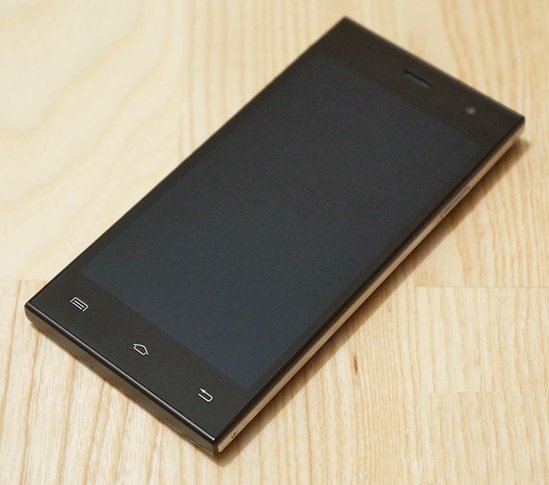 The back cover is made of plastic coated with "soft touch". It is black in color, fingerprints visible. The side faces of the metal – a very nice addition. Mounted on two cogs on top and bottom. Plastic edging forms a thin ledge above the display. The screen itself is protected by tempered glass. The manufacturer does not precise data about the type of glass.During use on the body and on the display there is not a single scratch or chips. Oleophobic coating is, but it is weak and in a few weeks active "Hughes" began to fade.Top center speaker is voice. Average volume, clarity is good, the interlocutor can hear clearly. You also hear quite normally, without extraneous sounds.
Display
Wexler ZEN 4.5 with display is diagonal of which 4.5 ", and resolution – 854×480 points, IPS. The physical size of the screen – 56h99 mm. The frame top and bottom – 16 mm, left and right – 4 mm.The maximum brightness of white color – 544 cd / m2 maximum brightness in black – 0.56 cd / m2, contrast ratio – 970: 1.
Battery
The smartphone Wexler ZEN 4.5 installed removable battery capacity of 2000 mAh. Time work, as is clear from the value is low, even for cost chipset MTK6582. Most of the energy "eats" screen, especially at maximum brightness – dramatically increases the "voracity".Gadget, in fact, works on the principle "from the wall outlet to outlet." For example, if you disconnect the AC adapter from the ZEN 4.5 at 9 am, then with little use gadget to dinner battery sits 100%.
Memory and memory card
Inside the integrated 1 GB of RAM. On average, about 600 MB free.Storage allocated 8GB Flash-memory. Of these, 5.6 GB available for user needs. There is a slot for a memory card, its maximum amount – 32 GB.
Camera
Two modules: 5 megapixel (F2.4) with autofocus and 2-megapixel (F2.8) front without focusing. Present outbreak.Photo quality average or below average. Basically, the claim to the low detail, a lot of noise, not very precise focus. "Frontalka" takes quite bearable.Video unit records in FullHD resolution of 30 K / s. Quality is bad: not dramatically, when you change the focus hear the moving lens.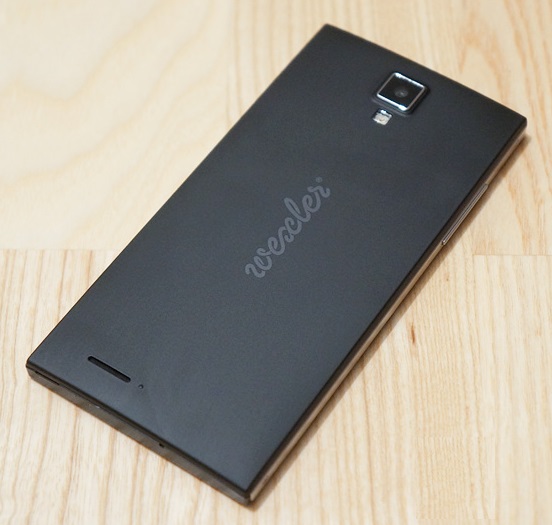 Performance and software platform
Model Wexler ZEN 4.5 operates on the chipset MediaTek MT6582: Cortex-A7, 28 nm, 4 cores at 1.3 GHz, graphics accelerator Mali-400MP2 with a clock frequency of 400 MHz. About chip we wrote countless times, so I will not repeat.
The device runs on Google Android operating system version 4.4.2. Proprietary shell is absent. Yet tested the device, update flew by as much as 500 MB, which can be downloaded for about two hours. However, the sense of it is not noticed.
Multimedia
In the gadget installed standard music and video player, radio. Speaker is loud.Quality music with headphones usual, the volume is high.