Recently, Huawei has announced the official launch of Nexus 6P in Pakistan. Huawei has built this killer smart phone in collaboration with Google and it has been loaded with Pure Android Marshmallow v6.0. The physical design, operating system, interface, camera, battery life, built-in apps in fact each and everything integrated in Nexus 6P has utterly established it as the best Nexus launched till date. This smart phone has created great waves in media, from international to local. Tech critics, bloggers etc all were anxiously waiting for Nexus to come to Pakistan.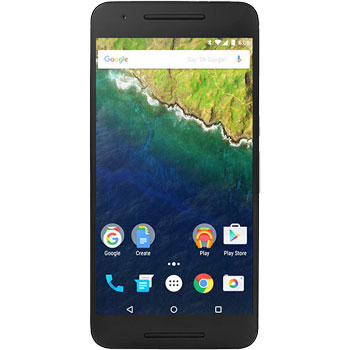 Huawei has undoubtedly made Nexus 6P with state of art perfection and latest advanced technologies and features, bringing it in direct competition with Apple's iPhone 6S Plus. It would be very right to say now the game has changed for Huawei. It is now officially regarded as leader in innovation of designs and technologies with the launch of smart phones such as Mate S and now Nexus 6P.
Now let's have a deep dig into the specs and features of Nexus 6P.
Huawei Nexus 6P Key Specifications
Nexus 6P's key specs are:
Weight, 178g
Screen, 5.7" AMOLED capacitive touch screen, 16M colors, Corning Gorilla Glass 4, Oleophobic coating
Resolution, 1440X2560 pixels (~518ppi)
OS, Pure Android v6.0 Marshmallow
Processor, Qualcomm Snapdragon 810, MSM8994 2.0 GHz Quad-Core
RAM, 3GB
ROM, 32GB/64GB,128GB (no slot for memory card)
Camera, 12.3 MP rear camera and 8MP front camera
Battery, Li-Po 3450 mAh
Physical Build & Design
Huawei has built its flagship device Nexus 6P really smartly even it wouldn't be unfair to compare the elegant design of Nexus 6P with Iphone 6S. Although Huawei has been bring forward classically esthetic-touch in cell phone designing and each smart phone designed so far has always a different and pleasant look for the consumer. Similar goes for the Nexus 6P, it is highly decorated smart phone to the extent I can describe it being very rational. Decorated in a sense that Huawei has streamlined Nexus 6P in a way that the much talked about bulged camera in the rear, when experienced in the first hand contact it felt so smooth and finely jeweled in the back of this flagship device. This is what Huawei itself claim to be a creatively innovative and esthetically elegant in design. While holding Nexus 6P in hand, it is obviously felt silky in touch, the curves and lines are well crafted with expert approach in the designing.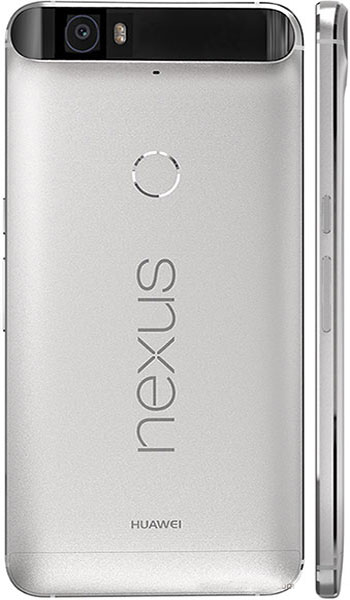 Most importantly the trend of aluminum body or generally metallic one is hailed by the consumers and the manufacturers alike. Same is the case for Nexus 6P. It is built in a single piece of aeronautical grade aluminum sheet. As it implies form the metafile body two features are lightened two important features in Nexus 6P i.e lustrous look of Nexus 6P and the soft smooth touching experience. Nexus 6P is an inspirational manifestation of the reality that the plastic body handsets, especially, smart phone are a past tale. Uni-bodied Nexus 6P is also added with symmetrically and finely lined edges that enhances it beauty and make one fall in love with the device. And if we can describe it in rhymical expression Nexus 6P body design and the metallic touch in manufacturing of this very flagship design leaves a feel that the elements are floating in sequensial and mutually coherent tones of artistic delecacies.
DISPLAY
Gorilla Glass 4 along with an oleophobic coating for fingerprints and smudge resistance, is a nice touch in the Nexus 6P. Moreover the display screen is 5.7″ WQHD (2560×1440) AMOLED, packed in 518ppi. Being an AMOLED screen may one argue for the display experience of Iphone a more better one but the fact is no doubt the display ois different in both the devices but honestly both provide great. And when we come to the things that make difference as well as matters a lot here, it is the spacifically focused color experience that Huawei has focused deeply. Nexus 6P provides with deeper colors with an extra vibrant feel, richer than the iPhone. Also the sleeky curve touch of the screen in Nexus 6P makes it the best sceern phone in the market.
Overall the screen experience of Nexus 6P is better than any other contemporary smartphone available in the market.
Performance
One thing always shines out in case of Huawei devices is that they are not limited to the elegant designs and satisfying esthetic tastes of the consumers but it also provides best potential of marvelous experience of its performance. Nexus 6P when tested through capturing pictures, videomaking, playing songs, playing games and long hours surfing of internets with downloads of interesting clicks and uploading updates to social media website, Nexus 6P proved itself truly rightful of the title of flagship device. There was excellent expreince od display, no heating up the device and neither there was reboots excepts I guess once, as it usually goes with Android.
A weel symmetric performance equation with the physical appearance of Huawei Nexus 6P left hearts soothen. Because finally market ahs a flagship device;  a smartphone that infact fulfills the emaginable fantasies of high technology loving consumers.  It is also to be mention here that Nexus 6P is incorporated  with Octa core Qualcomm Snapdragon 810 v2.1 CPU clocked at 2.0 GHz. Adding to this is 3GB RAM size that enables smoothing operations of applications and games with large volumes of virtual memory to flow in a stream of hurdleless flow.
Features & apps
Features and applications in Huawei Nexus 6P are the most attracting part. Huawei has come up with the finest Android Operation System (OS). Important to note is that as Google has collaborated with Huawei for enhancing the operating system experience in Nexus 6P, it updates most freaquently with latest upadates.
Ambient display feature was most loved one during spending time with Nexus 6P. To put this feature in word is that when there is a new noticfication or the one want to approach clock on the display screen it just sense the motion and slightly light-up the display so that the time or the new noticfication can be seen easily. But this feature ha sa problem with it as well and that was the unpredictability and inconsistency of the feature. It would be more interesting if it could be improved a bit.
For the security of personal data and for signing up to Nexus 6P, as now a days is a convention, as offered afingerprint reader. All one have to do is to follow some easy steps to infilt the fingerprint in the device use the feaure afterwards.   And as mentioned before Google's contribution has greatly enhance smart phone features experience. In security feature Google ahs incorporated 2 categories. One is to synchronize Nexus 6P with a trusted device like smartwatch that will be conncted and work without making the phone to be unlocked again and again. Another category contains 3 biomateric identification options; Face detection, Voice detection and even body detection. So unlock mode is totally revolutionized by Huawei and Google's collaboration.
Camera
Nexus 6P brought a cool combination of front and rear Camera that further make it an adorable flagship gadget for the selfie loving generation of today's. 8MP front camera is just perfect with its selfie quality (clarity, real time feel and incredible experience of capturing loving movements in times of pleasures and joy).
And for what we have found the combination of front and rear Camera awesome is  due to the reason that the 12MP rear camera supremely satisfied, to the extent of our experience, the need of a digital camera in hand to capture snaps of our surrounding beautiful creation of Nature. So it is real tie combo of best selfie clicker front and outstanding rear camera for photography. And if one asks what about the low light and colors in the pictures with Nexus 6P, so it is an experience that best can be felt by using Nexus 6P camera by oneself. Nevertheless, colors are more vibrant and pictures in low light never let you know if there was any low intensity of light out there.
Battery
Android smart phones no matter which company manufactures it always come with a bit of battery issues and it is the core specification one look into before going for a smart phone. But it is confessed here that Nexus 6P left a way better impression on us. It is one of the best smart phones, especially in case of android phone, that has satisfied our thirst of long hours' battery life.  The 3450mAh battery served 17 hours a day with a single charging and there were literally no issues at all. But most importantly battery life depends on the usage no doubt.
Verdict
Experiencing the flagship device, Nexus 6P, in first hand is a marvelous one no doubt. It is best in the metallic look, vibrant color and large display with protected screen using Gorilla Glass 4, Camera combination is outstandingly appreciable and above all the smooth functioning of the device, one will come around that it is not only a smart phone but actually a combination of all tech-devices one may require to integrate in ones daily life.
Tweet: Nexus 6P, a dynamic and magical wonder by Huawei & Google
Hashtag: #HuaweiNexus6P