The South Korean company LG Electronics officially unveiled the LG G Flex – a smartphone whose body profile "twisted" on the profile of the person, and has its own development of the design in the form of a curved screen and battery, and additional user interface features that take advantage of the curved design of the display.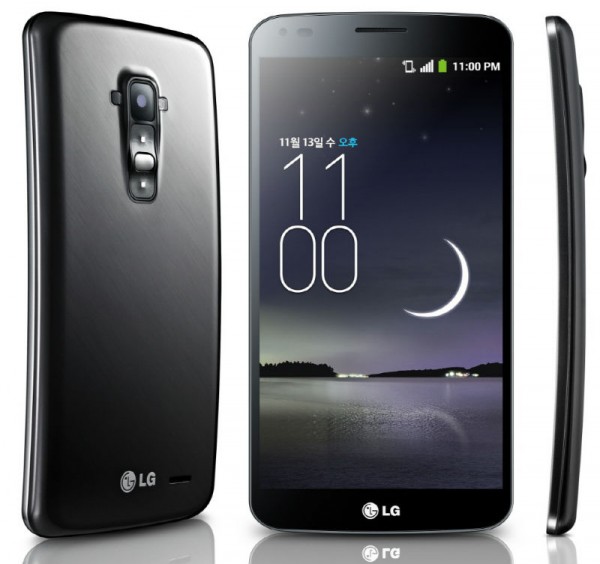 As the producer, such a curvature in the body design of its new products can not only increase the volume in the dynamics of the smartphone when talking by 3 dB, but also provides improved voice quality and sound. In addition to games, movies and videos in portrait orientation, LG G Flex provides IMAX-like experience with the most comfortable angle for viewing.
In addition to this, LG refused to use a G Flex side buttons, and move them to the rear panel to avoid accidental clicks adjust the volume or turn off the unit. Now, all control can be made forefinger, similar to how it is implemented in the LG G2.
New user interface features listed below:
 QTheater : quick access to photos, videos and YouTube directly from the lock screen;
Dual Window : shared a 6-inch display new items into two separate areas that can run two separate applications;
Swing Lockscreen : access to events in the lock mode oscillation of the smartphone;
Face Detection Indicator (LED Face Detection): The LED indicator on the rear control key, confirming the status of the mode switch and focusing;
Camera Timer (Timer Camera) LED (back button) flashes when the timer turned on the camera;
Urgent Call Alert (missed an important indicator of calls) on the back of the indicator flashes red when the number of consecutive calls from one person remained unanswered.
[highlight]LG G Flex will be available Coming Soon in market. About the beginning of sales of new products in other markets will be announced later.[/highlight]
What Key Features LG G Flex has?
Support communications standards: LTE-A / LTE / HSPA + / GSM
Processor: 2.26 GHz, quad, Qualcomm Snapdragon 800 (MSM 8974)
Display: 6-inch, curved P-OLED, resolution of 1280×720
Main Camera: 13 MP
Front camera: 2.1 MP
Memory: 2 GB RAM (LP DDR3), 32GB of internal
Communications: WiFi 802.11 a / b / g / n / ac, BLuetooth v4.0, USB 3.0, NFC
Battery: 3500 mA / h
Misc. Features: Digital TV Tuner (TDMB), support for playback of 24-bit/192kHz audio