It seems, Samsung pleased Sales Galaxy S4 Active, because there is information about the Galaxy S4 Active mini. The smartphone will be not only smaller in size, but will have a much weaker technical stuffing. Presumably, technically Galaxy S4 Active mini will be even weaker than usual Galaxy S4 mini.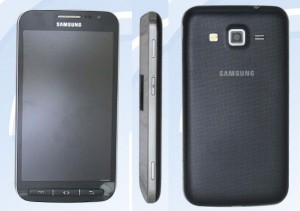 According to information  Galaxy S4 Active mini has following specs:
Dual-core processor with a frequency of 1.2 GHz
Adreno 305 graphics processor and has 1GB of RAM.
The smartphone has a 4.65-inch screen
Resolution of 800×480 pixel
Main camera with a resolution of 5 megapixels and the front with a resolution of 0.3 megapixels.
As well as the older model Galaxy S4 Active, smaller version would be resistant to moisture and dust. Samsung hopes that more people will move to secure smartphones. For example, there is a rumor that the next flagship Galaxy S5 will be water-resistant.
[quote]It is not known how much it will cost Samsung Galaxy S4 Active mini, as well as unknown and date of the sale. we will update its Full specifications with its price as early as possible.[/quote]