4 new Samsung devices will be introduced first quarter of 2014. This is a new line of tablets Samsung Galaxy Tab Pro, which will include tablets Galaxy Tab Pro 8.4 (SM-T320/T325) and Galaxy Tab 10.1 Pro (SM-T520/T525), a great tablet Galaxy Note Pro 12.2 (SM-P900 / P905), as well as ultrabudgetary – Galaxy Tab 3 Lite (SM-T110/T111).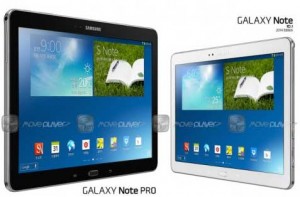 All devices Pro line will get 4G LTE-module, whereas Tab tablet Lite 3 will only work on 3G, while the cost will be less than 100 euros. This model will be presented before the others, and we expect her appearance in the next two weeks. The device will receive a 7-inch screen and light housing characteristics remain unknown.
After 6 weeks, at the beginning or middle of February, we will see the Galaxy Tab Pro 8.4 and Galaxy Note Pro 12.2, and already on the MWC will be presented Galaxy Tab Pro 10.1. All devices will have at least 16 GB of internal memory (for Note Pro 12.2 – at least 32 GB). Note Pro, by the way, can get a screen with a resolution of 2560 x 1600 pixels, 3 GB of RAM, quad-core Snapdragon processor and the battery on 9500 mAh. His alleged photo rendering and recently appeared on the web.
It also reported that in Tab Pro 8.4 and Pro 10.1 may be used matrix Super AMOLED.
source>>phoneareana