Despite the fact that Nokia is a major manufacturer of devices for Windows Phone, the company does not forget about their own development in the budget segment. At a conference in Abu Dhabi presented the new smart phones from the
Family of Nokia Asha :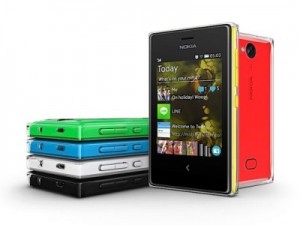 Nokia Asha 500
Nokia Asha 502 &
Nokia Asha 503
[heading class="mobileprice"]Their main feature will be the low cost – 69, 89 and 99 dollars respectively.[/heading]
All three devices are powered by Asha – own software Nokia, specially created for budget devices. The company has updated user interface, adding gestures and control advanced settings for better personalization. An interesting feature of all three smartphones is the case: the device covered with a thick layer of transparent plastic, which gives the original look and protects from minor injuries. Will be available in the following colors: red, green, yellow, blue, white and black.
Nokia Asha 500,502 & 503 General Specs are :
2.8-inch display
2 megapixel camera with fixed focus and
optional slots for two SIM-cards.
In Nokia Asha 502 screen size increased to 3 inches,
The resolution of the camera – up to 5 megapixel (fixed focus), which is complemented by LED-flash.
The smartphone supports two SIM-cards.
A budget device has a complete set of Nokia Asha 503. In similar characteristics Asha 502 device supports networks of 3.5G, the screen is covered with glass Gorilla Glass 2.
In the version available for sale with one and two slots for SIM-cards.
All three units have a smartphone Wi-Fi, Bluetooth 3.0, 1200 mAh battery, and also microUSB 2.0 ports and slots for memory cards MicroSD.
For More info See Nokia Official Press Release Snapshot for these Asha Family Nokia Mobile Phones
[note]The devices will be available later this year in Asia, Europe, the Middle East and the Pacific. Asha 500 and 503 will be available in Latin America.[/note]