The Most Awaiting Samsung Galaxy S7 / S7 Edge Finally Launched in European Smartphone Market. Again Samsung Galaxy season come as spring come. Samsung the leading Smartphone manufacturer every year launch its new smartphones, now released Galaxy S7 & Galaxy S7 edge.These Galaxy Series Samsung smartphones are highly popular among smartphones users across the world. To engaging users with Samsung brand now company focusing on trendy demanding features. Samsung introduced many new features are introduced in these brand new S7 and S7 flagship smartphones. We will soon cover its all features in a review. Samsung galaxy s7 price in Pakistan is also available on Pak Mobile Price.
These cellphones were on pre-orders with a Gear VR as free with each of smartphone. But now this deal is over because Samsung Galaxy S7 and Galaxy S7 Edge are set on sale from yesterday in europe. But a good news for U.S.A users is that many wireless carriers in U.S also offering a free 32GB microSD card with every handset. United Kingdom wireless carriers O2,EE and vodafone offering this kind of package with these Samsung mobile phones.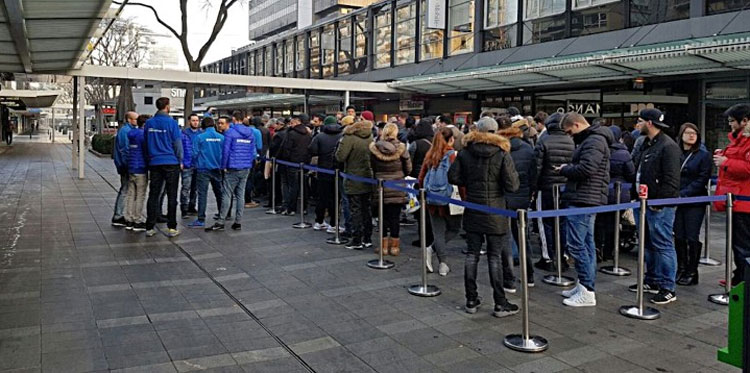 According to Samsung Chief Koh Dong-jin, company got 3% more pre-orders as compared to its previous Galaxy S6 and Galaxy S6 edge.  He also disclosed that Galaxy S7 Edge is most demanding as compared to Galaxy S7. You can also see in above picture how peoples are waiting in queue to get these galaxy series smartphones in Netherland. Courtesy of GSMARENA for this picture.