There is no denying that everybody loves taking pictures! There was a time when people used to depend on a single small black box-like camera to capture memorable moments but those days are long gone. Nowadays with the advent of smartphones, androids, and iOS phones, everyone has great cameras on their mobile phones. However where iPhones have their great cameras and picture editors inbuilt, sadly the same is not the case for android cellphones. If you have an android smartphone, you must know that the struggle to click well-edited pictures is real. There was a time when you had to take pictures with android mobile phones and then edit them online or download a separate editor to edit every single picture. Times have changed now greatly, and life has been made easier ever since mobile camera apps for android handsets have been introduced. Now with the camera app, you can take pictures directly with the filters you want, and there is no fuss of editing them later onwards. So now you can choose an amazing and simple best camera app for android phone as you have many options!
Emerged trend of focus on photo capturing camera phones
Almost all mobile companies are greatly focusing on cameras nowadays. In fact, the camera is one of the most distinctive and prominent features that increases the sales of phones these days. The main focus of mobile developing companies is to design phones that have dependable cameras that can work well in varying lights. People trust these cameras to capture their memorable and precious moments of life so it should be worth it.
Best Camera Apps in 2016 – Paid & Free Android Apps
In this review, we bring you the top 8 camera apps that you should be looking out for this year. These apps have stood out in the past and continue to give amazingly satisfying results to the users. After reading this review, you will for sure be able to choose the best camera app for android to use this year!
Hands down this are one of the most popular and of course best camera app for android that is being used by people these days. The app has been downloaded by over 100 Million users till date which is huge and gives credibility to the app itself. With more than 50+ filters, this app works well in capturing great pictures in all types of lighting. This app is dependable and reliable because it works well with mostly all types of android phones. There is, of course, the option of auto-save as well as multiple college options. You can capture pictures directly on this app and syncs automatically with your phone gallery.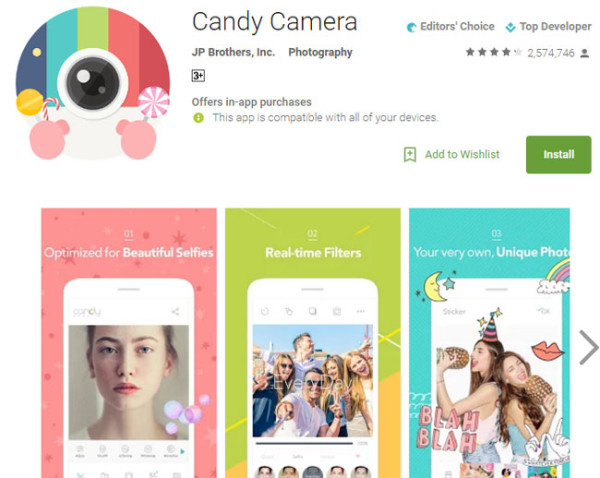 Snap Camera HDR is particularly much loved by people, and there is one big reason for it being so famous – it works well for professional photographers as well as beginners. So you don't have to worry about not being a professional anymore because with the Snap camera HDR app you can capture snaps just as lovely and striking as professionals. There are several features in the settings that can be chosen and set according to personal preferences. Personalization is very important as far as taking pictures is concerned. This camera app is available for free download at the app store. In addition to automated functions, this app allows manual control of the functions as well.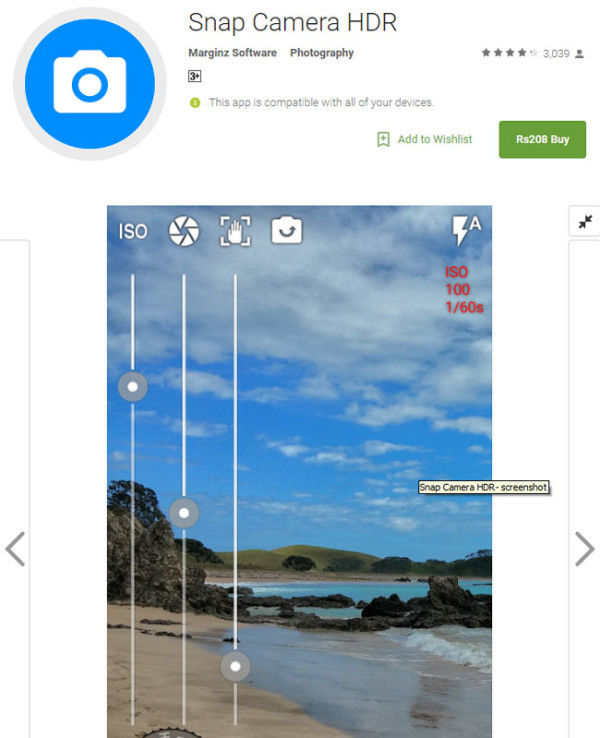 The Google camera has been around for several years but has emerged much modified in the recently years, and this is when the people mostly noticed it. Google is a super powerhouse which has won hearts with its innovative services in various fields. Recently Google launched its camera application for android phones and as expected was an instant hit with its dedicated users. The features of this mobile camera app are relatively simple but downright amazing and easy to use which makes it loved by several people. Along with still pictures, it works well with HD quality portraits and slow motion videos.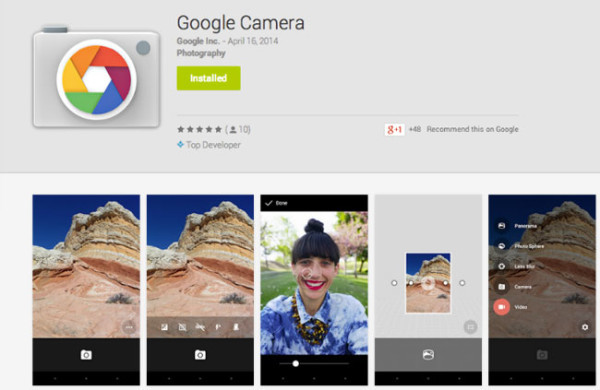 The Cymera camera app is no alien to the picture apps zone. It has been around for more than a decade now and in the recent years has gained maximum exposure. Today it has credits for being downloaded for more than 200 million times. There are many things that make this app so popular and loved by millions of people all around the world. First of all, of course, it has some great filters that make your pictures appear amazing without appearing to be very dramatic. However, the one letdown for this camera is of course that it does not permit manual control for the users which is rather disappointing as you have to settle for the automated functions. This, of course, limits the options.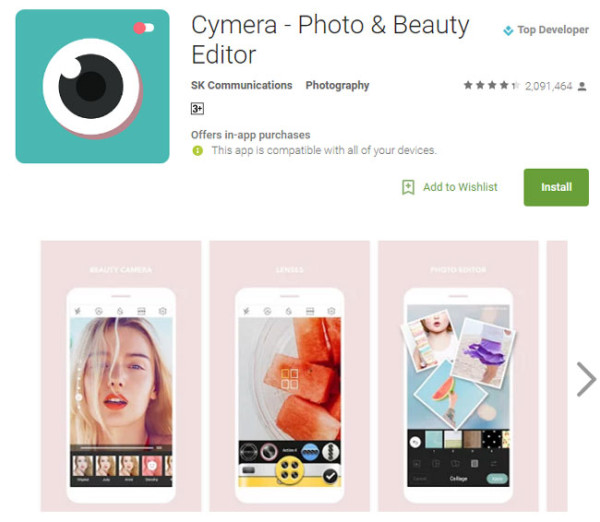 All android users love this app, and there are many reasons for several people NIL it. It has filters, multiple of them actually and has many frame sizes to suit your need. This camera app is getting famous day by day because of its convenient use and of course it has been getting positive feedback from users all along. It is very popular amongst girls because of its girly filters that add the tint of pink here and white there whenever needed! This app also has the features of no-crop pictures as well as the Instagram filters including the crown filter and the dog filter.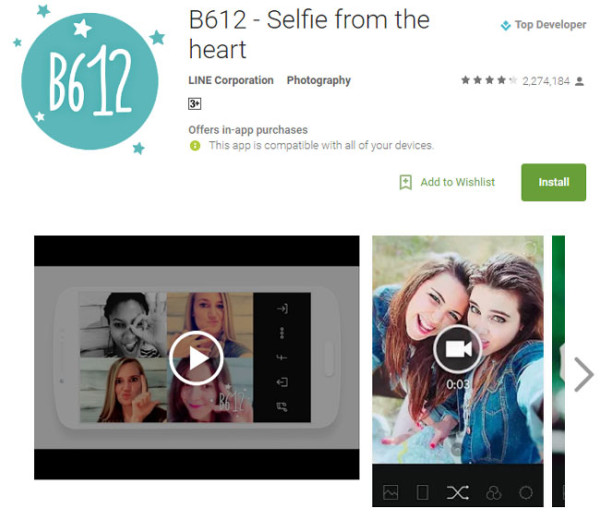 Selfies is the latest craze this year, and this is why you need this camera app in your life. In 2016 if you are looking for a camera app that works well with rear pictures as well as selfies then the BestMe selfie camera is the one for you. This app is available for free download at the Google App store. The great thing about this app is that it works remarkably well for selfies. This app includes more than 120+ filters as well as emoticons and stickers to go with the snaps captured. It is a very handy app for people who love taking pictures all the time to post n their social media accounts. Along with picture editing and filters, this app also has features for customized frames and collages. Along with pictures, it works great with videos as well.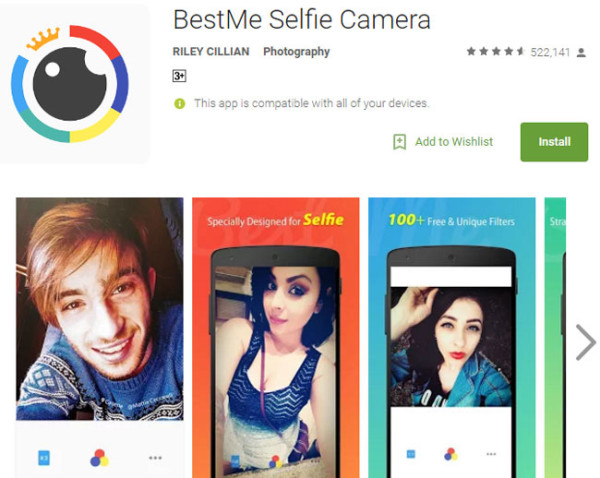 The Camera JB+ mobile app works well for android phones that have inbuilt jelly bean. This app has multiple features to offer. It works well for taking pictures, making videos and taking selfies as well. In addition to all this, the Camera JB+ app works amazingly well for taking panorama pictures which are rare for a camera editor app. This camera works well with professionals as well as amateurs, so you get the best results for photographs. This app is very easy to use, and if you feel happy with the results of this app, you have other options to choose from as well from the same developer. The developer of Camera JB+ also has designed the Camera KK as well as the camera ICS to please its customers.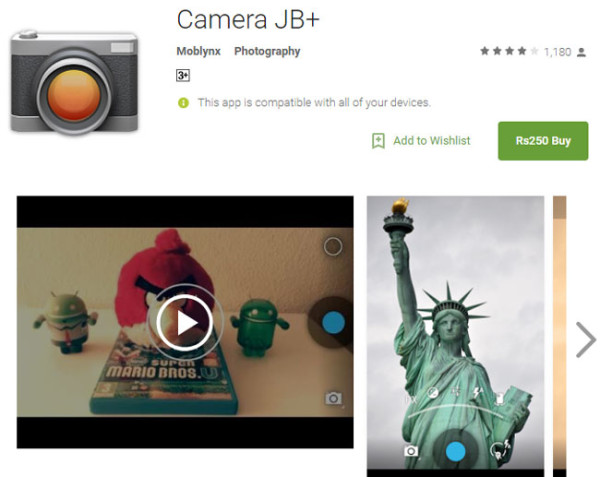 Cardboard camera is the last mobile camera app that we need to mention before winding up this review. This app stands out amongst its competitors because of one superlative feature; it captures photographs with a 360-degree view angle which is amazing and one-of-its-kind. The app allows a gallery for the pictures it takes in which all photographs taken are automatically saved. The app also has the option for auto-sync and auto-updates of the pictures on social media accounts. There are also many settings that are available for the users to set by personal preference.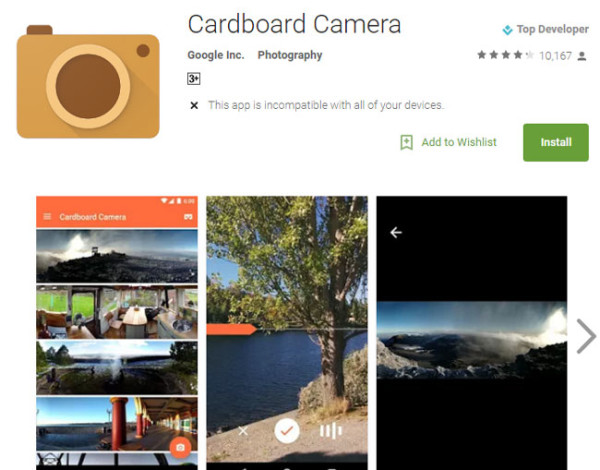 Related More: 7 Apps You Must have in Huawei Nexus 6P
Read More: 7 Tech Gadgets You Must Have For Summer Vacation Tour
If you like PakMobilePrice this article on Android Apps for photography and taking selfies then do share it with your friends on social media and if you have any suggestion regarding the best camera app for android devices then write in comments below. I will share your stuff or suggestion next time. One thing more, I will update these list very soon, so please visit again and again to get more stuff related to your interest. Thanks for reading and sharing my article. 🙂